innergarm
innergarm Aroma Lavendar Inner Balancing Gel (6 pieces)
innergarm Aroma Lavendar Inner Balancing Gel (6 pieces)
innergam Aroma Lavender Inner Balancing Gel is a feminine cleansing gel that calms the body and mind and creates a comfortable feeling with deodorant effect and elegant scent of lavender.
It contains EWG green grade natural essential oils created by French perfumery established by the world-renowned perfumers, Jacques Lions & Claude Broggi in 1982.
When the intimate area's health balance is off, you get unpleasant odors and discharge, itchiness, and dryness - which can cause discomforts.
1 n 5 women use wrong way to clean the intimate area, and it can lead to many health complications.
When the intimate area exposed to the risks - such as sexual intercourse, stress, hormone imbalance - it needs supporting just like other parts of our body.
Keep your intimate area in tip-top condition with innergarm Aroma Lavender Inner Balancing Gel.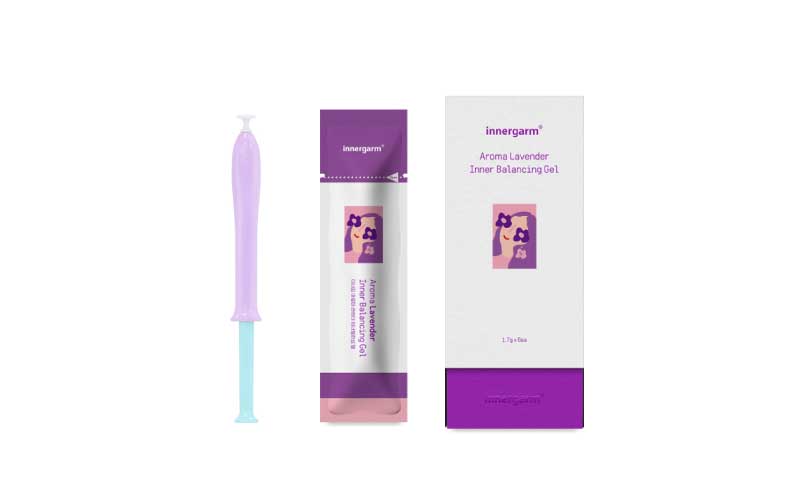 ■ Cleanse discomfort, Boost balance. Waterless cleansing for healthy vagina!
innergarm Aroma Lavender Inner Balancing Gel's formula contains only ingredients that have been specially selected for the intimate area.
It is designed to help the irritated and sensitive area to purify, balance, and restore the healthy condition.
l Perfect solution for unusual odor, itching, and discharge
l similar texture and viscosity to vagina
l Deodorant effect and elegant scent of lavender
l Vegetable complex oil (Amyris Balsamifera Bark Oil, Vetiveria Zizanoides Root Oil, Pogostemon Cablin Oil, Commiphora Myrrha Oil, Lavandula Hybrida Oil, Eucalyptus essential oil) : Moisturizing effect
l Subacid pH : Subacid pH, ideal for women's skin
l Hypoallergenic test completed
■ Eco-friendly paper

wrapping material, PROTEGO - Primary Packaging
PROTEGO means 'Protect' in Latin - the paper capable of providing protection.
Block oxygen, moisture and smell by generating coating layer on the surface of the paper.
Stencil paper having a high-protection ability through special coating
Recyclable, biodegradable up to 90%
■ Eco-friendly paper made of bamboo pulp - Secondary Packaging
Bamboo absorbs green-house gases 3 times more than general woods(FSC)
100% biodegradable after use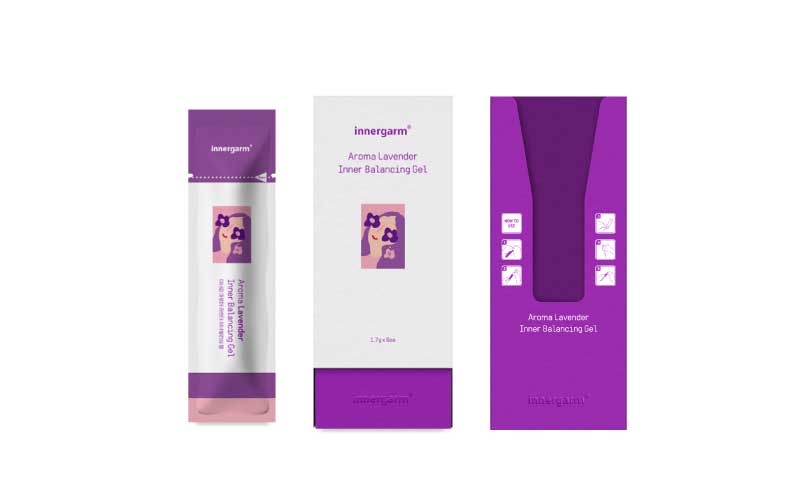 ■ PATENTED APPLICATOR - Just Push and release, then you will feel the difference.

Meet our patented applicator, SOOTHE.
SOOTHE is designed to bring you a multi-dimensional perspective of freedom - natural insertion and more.
l Streamlined shaped for the most comfortable insertion
l The ' one-push' type applicator
l Designed preventing reuse or recycling
l Individually wrapped disposable applicator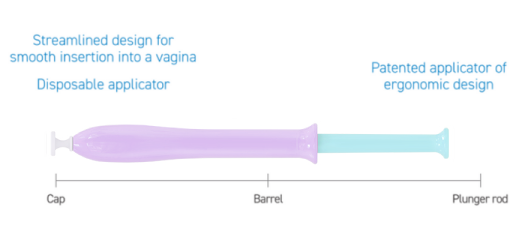 ■ How to use

1. After washing hands, open individual wrapper
2. Take out 1/3 of the applicator and hold with your thumb and middle finger

3. Eliminate the protective cap by bending at an angle of 45 degree

4. Insert the applicator into vagina, squeeze the gel by pushing the plunger

5. Discard applicator after putting it in the individual package
■ Ingredients

Water,Hydroxyethylcellulose,Lactic Acid,Sodium Citrate,PEG-60 Hydrogenated Castor Oil,Sodium Hyaluronate,Amyris Balsamifera Bark Oil,Vetiveria Zizanoides Root Oil,Disodium EDTA,Sodium Benzoate,Pogostemon Cablin Oil,Commiphora Myrrha Oil,Lavandula Hybrida Oil,Eucalyptus Globulus Leaf Oil